Debt ceiling, artificial intelligence, US Banking failures, Ukraine war and global unrest. Sounds like another year of uncertainty. The fact remains that every year I write this letter, there is always something, or a multitude of events, causing uncertainty. The question always has been and always will be… What should we do and what can we control? In life, when we are faced with making big decisions, we usually base our actions on two things:

1/ our personal values and beliefs.
2/ the facts available to us at the time of the decision.

These two factors ground us in our personal decision making. In determining what actions to take financially when the world is uncertain, the decision-making process is remarkably similar:

1/ what is the philosophy, values, and beliefs of the person you are working with and do you continue to share those beliefs.
2/ what are the facts available on different courses of action.

At The Andrews Group, our focus and promise to all of you, our clients, is centred around our core belief: "That money is only important to the extent that it allows you to do those things that are important to you." We are steadfast in our focus to help you achieve those things in spite of the market volatility and short-term returns. With that in mind, our investment philosophy is for you to have a personalized plan and a customized blend of stocks and bonds, which allows you to weather the ups and downs and to ultimately achieve the purpose for your accumulation. This blend of stocks and bonds is diversified globally to minimize loss and capitalize on opportunities. Currently in 2023 (Year to date), Canadian equities (TSX) is up 1%, US equities (Russell 3000) is up 9%, global equities (MSCI EAFE) are up 8.72% and global bonds are up almost 3%.
While there is no certainty on how 2023 will end from a performance perspective, one thing is for sure, uncertainty is the price we all pay to earn higher returns and accumulate more money, which allows us to do those things that are important to us.
To provide you a sense of the uncertainty over different time periods, the following chart illustrates the percentage of time stocks have been positive over the last 53 years.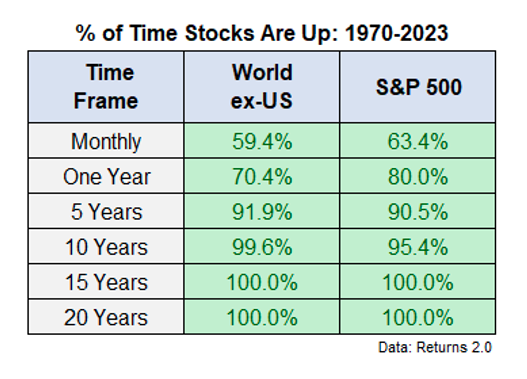 The Office:
2023 has certainly been an exciting year at the office. Two long time friends and Assante colleagues, Liz Young and Ross Fleischhauer, began discussing potential retirement about a year ago, and effective January 1st, 2023, we welcomed their clients to our office family. We are all sincerely appreciative of the trust and confidence Liz, Ross and you, our clients, have placed in The Andrews Group. To ensure we continue our commitment to providing the highest level of service and advice, we have expanded our office team to eight including four on the advisory team. We are not immune to the challenges in the workplace and work hard to ensure that the individuals who join our team share the same vision, values, and commitment to client care. We are always interested in talking with talented, enthusiastic individuals, so if you know of anyone, please have them reach out.
Personally, I continue to travel, mountain bike, climb a few mountains and find new adventures. My oldest daughter, Cassey announced at Easter that she is expecting, so I will welcome my first grandchild in October. Another exciting chapter begins. Chad continues to share experiences of Leo (4) and Olivia (7), and their developing personalities and behaviors that sometimes make him laugh and sometimes not. Chris is ecstatic about the upcoming golf season. Lee is always searching out new food venues and live bands, local and afar. I will share further stories from other team members in our year end letter.
For some time, as a couple, Sayra and I have been looking for a charity to support that was focused on seniors. Recently we had the opportunity to meet Katie and Cara, two inspirational young women with an electrifying passion for serving seniors. We were inspired by their work and decided to support the Ontario launch of their charity that originated in eastern Canada, "We Are Young." The organization's mission is…
"To grant unfilled wishes to seniors with the clear intention of positively changing the way society views, values, and supports our oldest generation."



COVID certainly illustrated the vulnerability of this group, who are strong and stoic and yet at times need help, whether it be with simple relationship gestures or a wish to support. As an office, The Andrews Group feels privileged to support We Are Young and if you wish to share our support you can do so through https://www.weareyoung.ca/ or call the office, ask for Orla and she will provide you the details
As part of the activities to promote this charity, Sayra is organizing a "fun" run/archery biathlon fundraiser on July 29th, 2023. While the word "biathlon" may sound intimidating, it is by no means the case! If you are interested in joining, please see the attached poster for details and contact information. If you do want to participate, if you could confirm by June 23rd that would be appreciated. (2023 WAY Archery biathlon.pdf)
To our longstanding clients and our new clients, we want to wish you a great summer with friends and family. We hope you create great memories.
All the best,
Mike

Mike Andrews is a Wealth Advisor with Assante Capital Management Ltd. The opinions expressed are those of the author and not necessarily those of Assante Capital Management Ltd. Please contact at (519) 438 – 0338 or visit https://www.andrewsgroup.com to discuss your particular circumstances prior to acting on the information above.
Assante Capital Management Ltd. is a member of the Canadian Investor Protection Fund and the Investment Industry Regulatory Organization of Canada.