By Chad Butnari
When I was a kid, we always used to make a point to do something fun as a family for March break. My mother was a teacher so she conveniently had the same days off as we did. I remember visiting my grandparents in Florida when we were young and when we got a bit older, going skiing at Shanty Creek in Michigan for a few days. I wouldn't necessarily classify these as extravagant vacations (my mom had a particular knack for finding good deals or finding free places to stay), but for us as kids, it seemed like we were travelling the world.
These experiences created a lot of memories for me. Now, for the first time in my life, I'm starting to think about creating something similar for my kids. As many of you know, I have 2 kids; Olivia – will be turning 7 in May, and Leo – will be turning 5 in August. Since they were born, the advice I've received from more "experienced" parents and grandparents is to cherish the moments when they are young as they grow up quickly. In reflecting on the last 5 years or so, I can honestly say this is true.
I'm not sure why this year is the first time I'm starting to really think about this. It could be that the first 5 years of their lives are a whirlwind of getting through the day-to-day when you're severely lacking sleep; it could be that a minor interruption of a pandemic got in the way; or it could simply be that I'm getting closer to reaching 40 that has me reflecting more. Regardless of the reason, I've noticed myself thinking more about how I can create lasting memories for my kids as they get older.
This year, my wife proposed that we take our kids to Great Wolf Lodge in Sandusky, Ohio for March break. I think she strategically decided to bring this up in February during RRSP season as she knew it was a busy time for me at work and I wouldn't have time to look into it too much. I simply agreed. It was not until a couple of days before leaving that I realized this wasn't exactly going to be a "relaxing" vacation.
Now that we've lived through the experience I can confirm I was right. It was pretty hectic, but it was a great time nonetheless. I have to say, Great Wolf Lodge does a fantastic job of making sure there is always something for the kids to do. They have the big things like an indoor waterpark and an arcade (which, by the way, is like crack for kids ?) but what I was most impressed with were the little things.
From the start, the wilderness theme was well-represented by the employees. They seemed to all understand the importance of portraying the magic to the kids. When you check-in, each child received a pair of "wolf ears" that they can wear around the hotel. The kids loved this and kept them on most of the time we were there. The hotel rooms were in keeping with the theme as well. We had bunk beds that took the appearance of a log cabin. There were 2 TV's in each room, 1 for the kids and 1 for the adults. The kids' TV had the Great Wolf Adventures cartoon playing all the time (from what I can gather, this was a show created by Great Wolf Lodge – genius!!).
One of the aspects I appreciated most, was the array of ongoing activities that were optional (but included) at any time. One day Olivia didn't want to go to the waterpark, so we did an arts and crafts activity instead. They had bingo and other games that you could opt into throughout the day. They had yoga for kids every morning and "epic story time" every night. In hindsight, I can understand the allure for parents to bring their kids to places like this – it's easy. Everything is done for you and it's well organized. There's never a shortage of things for the kids to do and you don't have to leave the property to do it. The kids ended up having a ball and it made for a relatively low-stress trip for parents. And, it was only a 3.5-hour drive.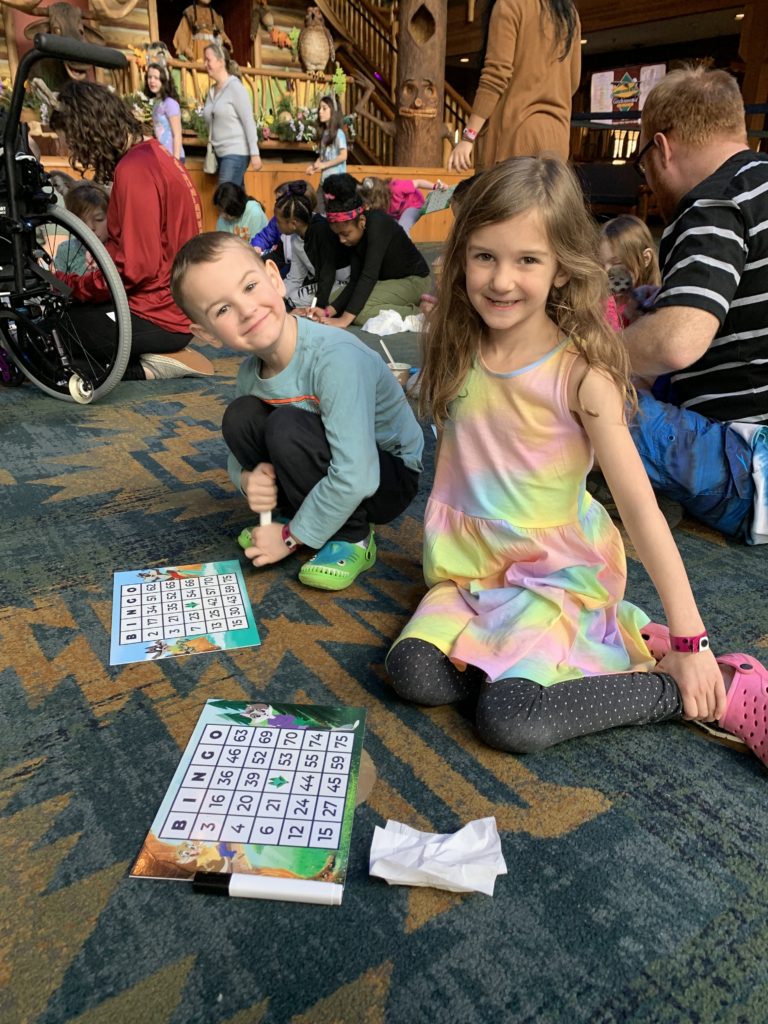 In reflecting on how quickly the kids grow up, I'm starting to realize how important it is to make time for experiences like these. They don't have to be fancy or overly extravagant, it's the effort and the time spent that your kids or grandkids will appreciate the most (it may also be bunk beds made out of fake logs ?).
For me, the planning and organizing is the most challenging part of a vacation. It often feels like there is never a good time to get off the treadmill and relax. There are always things to do in a business like ours. There's never a dull moment (which is actually a blessing in the grand scheme of things). But, making the time is important. And, as a nice by-product, I've found I do come back feeling refreshed with new ideas and motivation. So, in addition to my business goals moving forward, I've decided I will also be establishing personal goals, which will undoubtedly include experiences with my kids.

I'd love to hear from any of you who have had particularly great trips or experiences with your kids or grandkids including where you went and what made it a special experience for you. I think I'll be planning the next one soon and would love to hear your ideas. I think I better start saving as well. Disney may not be in my too-distant future and from what I understand, that can cost a small fortune…?
Chad Butnari is a Wealth Advisor with Assante Capital Management Ltd. The opinions expressed are those of the author and not necessarily those of Assante Capital Management Ltd. Please contact him at 519-438-0338 or visit https://www.andrewsgroup.com/ to discuss your particular circumstances prior to acting on the information above. Assante Capital Management Ltd. is a member of the Canadian Investor Protection Fund and the Investment Industry Regulatory Organization of Canada.